Overview
Introduction:
The Electronic Order Transfer process consists of two programs.
1. A "Buyers" program that exports Purchase Orders from QuickBooks and emails them to a Seller (vendor) who uses QuickBooks.
2. A "Sellers" program that converts the emailed Purchase Orders to Sales Orders and imports them into the Sellers QuickBooks.
These programs allow the Seller to avoid having to re-type the orders, maintain a cross reference between the buyers and sellers QuickBooks items and identity any differences between the buyers price and the sellers price.
Following is a flowchart of this process: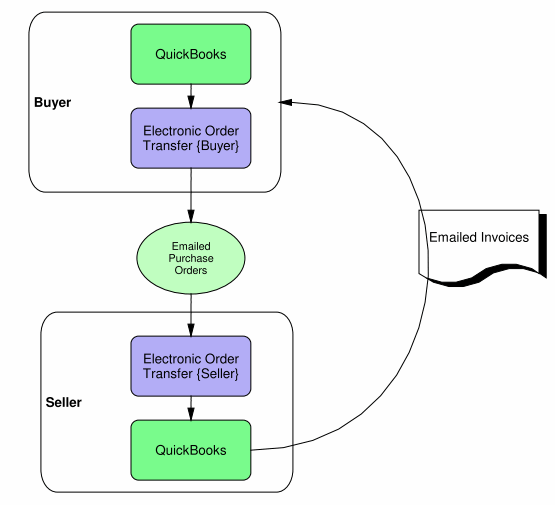 After importing the Sales Orders, Sellers can fulfill the order and use QuickBooks to convert the Sales Order into an Invoice and email the invoice back to the Buyer. The Buyer doesn't have to manually enter the Invoice as a Bill in QuickBooks, they only need to select the Purchase Order being invoiced and record it as a Bill.
The above process is similar to Electronic Data Exchange (EDI) but cost less because there are no transfer or processing fees.
System Requirements:
1. QuickBooks (see the "Download/Purchase" link at the top of this page for the different years of QuickBooks the program can work with.).
2. Microsoft Access 2000 - 2013 or the free Microsoft Access Runtime engine which can be downloaded from the "Download/Purchase" link at the top of this page.
3. Windows 2000, XP, Vista, Win 7, Win 8.
Contact:
If you have any questions or comments about this program, contact us at karl@q2q.us.
Trademarks:
QuickBooks is a registered trademark and service mark of of Intuit, Inc. in the United States and other countries. These programs are designed for use with QuickBooks and Enterprise Solutions software only. (See the "How to Buy" page for more information)